Healthy Air for a Healthy Home
Someone in your family may suffer from allergies, be sensitive to mold spores, or have health issues caused by airborne dust. If so, it's time to invest in more than a furnace filter. It's time to consider modern solutions to improve your indoor air quality.
At Mullen, we're indoor air quality specialists, with technicians well versed in the benefits of air cleaners, humidifiers, UV lights, and more. Call us today at 724-537-7203.
Humidifiers
Dry air increases the misery of dry, itching, and cracked skin, as well as causing damage to your furnishings and woodwork. Moist air feels warmer than cool, dry air. That means you can turn down your thermostat and maintain your home's comfort level while protecting your furnishings and woodwork.
Carrier's full line of humidifiers delivers between 16 and 19 gallons of moisture per day, depending on the model that's right for your home.
Quiet operation, along with easy maintenance and cleaning makes this a wise investment and a key part of your home comfort system.
Warranted for 10 years on electronic components with an optional 10 year limited warranty on the entire unit.
Air Cleaners
Increase the quality of your indoor air by having a whole house air cleaner installed. Furnace filters are great, but many of today's homeowners want more air quality than an inexpensive, off-the-shelf filter can provide. Carrier air cleaners deliver. Large particles are separated out by a removable mesh pre-filter, while smaller particles pass through to the ionizer where they receive an electrical charge, causing them to adhere to a grounded plate until washed away.
Air Cleaners minimize the damage airborne pollutants cause to your home furnishings while improving your indoor comfort.
Your comfort system will operate at peak efficiency because the components stay cleaner when clean air passes through them.
Warranted for 10 years on the power supply with an optional 10 year limited warranty on the entire unit.
Ultraviolet Air Treatment Systems
Mold is one of the most common home allergens, and moist air in the cooling coils of a central air conditioning system is a great breeding ground and source for germs and mold spores. A 1999 Mayo Clinic study found that mold was the culprit in nearly all chronic sinus infections. One of the most powerful strategies for improving indoor air quality is the use of an ultraviolet air treatment system.
UV light kills germs and prevents mold spores.
UV Air Treatment eliminates a high percentage of airborne bacteria.
Destroys volatile organic compounds and reduces odors caused by mold and bacteria.
Can increase air flow where mold and growths have restricted ductwork.
Air Duct Cleaning
Mold growth, allergens, insects, dust and debris can all build up in your air ducts over time. Remember, this is the air you breathe and that circulates throughout your home!
Talk to the experts at Mullen about the benefits of Air Duct Cleaning.
If you're going to invest in Indoor Air Quality, consider duct cleaning as one important step in maintaining the health of your home.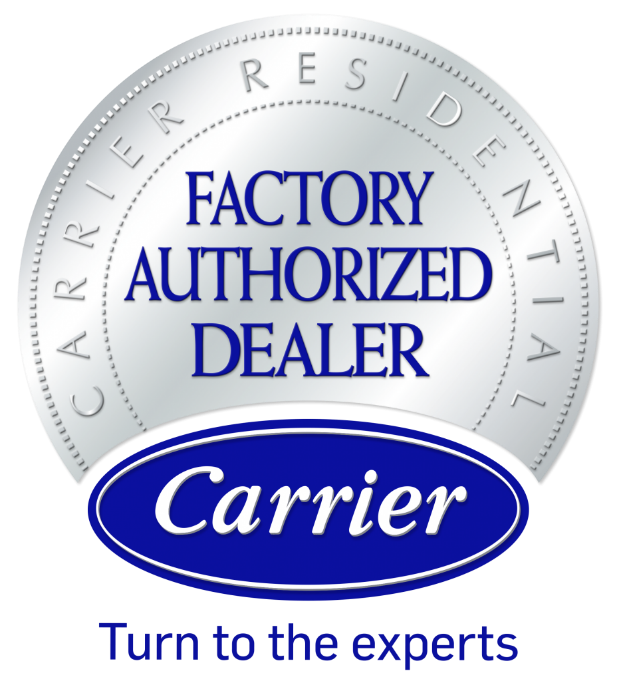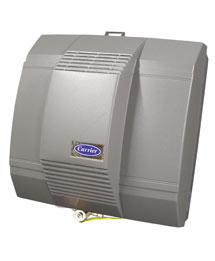 Performance™ Series Bypass Humidifier
Front access door provides easy access for cleaning and maintenance
Long-lasting, attractive cover
Optimum distribution of moisture
Four precise humidity control options: the Humidistat, Humiditrac™,lnflnity® or Thermidistat™ controls
Includes a 10 year factory parts warranty.
An optional 10 year factory labor warranty is available.
Infinity® Series Air Purifier Model GAPAA
Ultra high filtration efficiency equivalent to MERVIS
Captures and kills airborne viruses, bacteria and mold spores
Easy to replace media cartridge
Cabinet supports up to 400 lbs.
State-of-the-art, exclusive technology
Includes a 10 year factory parts warranty.
An optional 10 year factory labor warranty is available.
Performance™ Series UV Lights
The Carrier Ultraviolet GermicidalLight (UV Light) actually destroys microbialgrowth on the coil
It Is mounted Inside your system, near the indoor coil, where fungus and microbes may grow
The UV Light works to clean the coil and prevent growth of fungus on and around the coil by destroying the DNA of the to kill or deactivate it